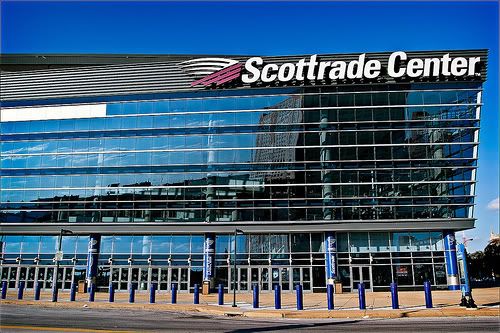 In his review of the home of the Blues, the Scottrade Center, Jack Winter of Stadium Journey gives the venue 3.3 stars, while the average fan rating is 4 stars. So, which is it to you?
He highlights the positive atmosphere of the crowd during a Blues game, which is interesting to me – they might be excited pre-game, but Blues crowds are some of the most silent sell-outs on television. Is this because everyone's intently watching the action? Too drunk to speak? Asleep (if it's a Minnesota Wild visit, my money's here)? There is criticism of the neighborhood around Scottrade as not being close enough to appealing venues around it for pre-or-post game fun. As someone who frequented Philips Arena quit a lot, that can be a bit of a buzzkill. You had three sit down places to eat and the CNN Center attached, but the rest of the neighborhood? Snoozeville, and not somewhere I'd meander about after dark.
Apparently we were mellow fans when Mr. Winter visited. That, as he points out, probably had something to do with this huge thing happening down the road at Busch Stadium. Come back for a Blackhawks or Red Wings game, Mr. Winter – we won't be mellow then.
I'm not quite sure what "Extras" are, but apparently Scottrade's lacking. Anywho, head over to the site and see if you agree. Any disagreements, hash them out in the comments.