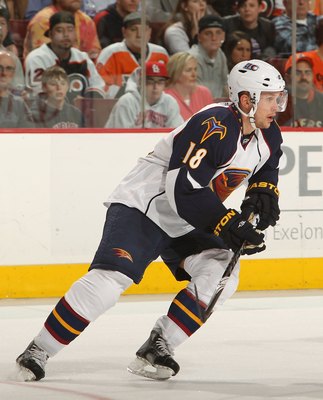 Yes, I chose this photo for the picture of the dude in the front row in the Cards cap. That takes guts to wear that in Philly. Well done, good sir. Well done.
The Thrashers finally re-signed their top line forward Niclas Bergfors today, giving much needed stability to the top six of the team.  Bergfors, you might remember, was the offensive part of the Kovalchuk trade who came over and kept pace with the former Thrasher in the games after the trade up through the end of the season.  The rookie was named to last season's All-Rookie team, and netted 21 goals and 23 assists last season.  Bergfors thrived playing in the Thrashers' wide open style, and it can be fair to say that he should be able to score more than 21 goals this season freed from the shackles of New Jersey's snooze-inducing offensive system.
Bergfors was re-upped for just one year, though, at $900,000.  This can be either good or bad – while most Thrashers fans'd like to see him locked up for more than one season (the term seems short), he will still be a RFA at the end of that term.  If he has a bang-up year this season, he can count himself almost a shoe-in for a payraise and a lengthy contract at the end of the season.