This was, quite possibly, the oddest draft I have watched in a while. No huge blockbuster trades to announce, a la Chris Pronger to the Flyers. Not a lot of movement in general, and no one knew who was picking who. Outside of the first two picks, it was a complete crapshoot. Good, high ranking players dropped out of the top 10 as clubs shied away from drafting defensemen. Offense was the name of the game in the first round, and the Blues and Thrashers picked up some offensive gems.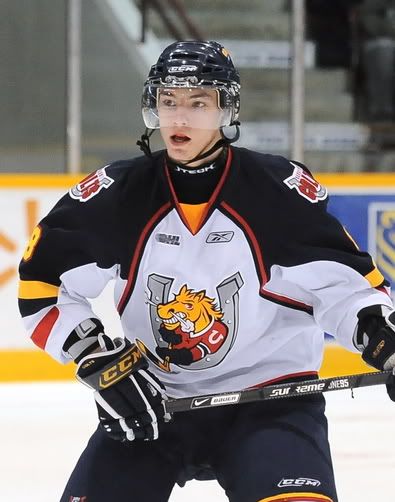 There's some paranoia about drafting Russian players that is completely understandable. Thrashers fans remember Ilya Nikulin. Outstanding player and defenseman – refuses to leave Russia. There is always a possibility that loyalty to their Russian club'll kick in, as will the allure of tax free tons of money, and poof – you're out a first rounder. The Thrashers were willing to take that risk, drafting Alexander Burmistrov 8th overall. Alexander was ranked 11th overall by NHL Central Scouting, and is often compared to current Thrasher Maxim Afinogenov. His idol, though, is Pavel Datsyuk. If he's as quick as Max and as brilliant as Dats, we snagged a damned good pick. Falconer over at BWA has some interview and video up of him after the draft, and the kid looks really, really thrilled to be a part of the organization. This isn't his first foray into North American hockey, either, having been on the Barrie Colts last season, so there might not be a huge period of adjustment. He just needs to work out this summer and add some size. I'll be looking forward to seeing him at prospect camp next month.
The Blues entered the draft having the 14th overall pick, and wound up leaving tonight with the 14th and 16th picks. This was Jarmo's last stand, and he did not disappoint, using the team's huge stockpile of defensemen (Rundblad went to Ottawa) to swing drafting two forwards who are both dynamic players. The Blues selected Jaden Schwartz 14th overall, which was higher than CSS had him ranked by far (he was ranked at 28th). He's a good, strong centerman who should be ready in a few years. He's also the brother to Yale hockey player Mandi Schwartz, who you may recall is fighting for her life with leukemia. Schwartz is small at only 5'10", but he makes up for that with quick thinking and impressive playmaking skills.
Vladimir Tarasenko is a little tank. He's built like a house. Like a really short house that could plow through the Great Wall of China. Out of the three guys chosen tonight by my two teams, it's this surprise pick that I really really dig the most. He's currently in the KHL playing for HC Sibir, which means he's developmentally advanced. His father Andrei is a former Russian scoring champion and his coach as well, and Tarasenko plays just like you'd expect him to. He crashes the net, getting people out of his way, and he nails that big goal. He was the top ranked player by International Scouting Services amongst their European skaters. He wants to play in the NHL, and he wants to play now, and the Blues have had success bringing players from Europe to the team with being able to bypass Peoria entirely, most recently with Patrik Berglund. Of course, there is the pesky problem of him being under contract with Sibir for next season still… hm. Yeah. That'll be fun to deal with.
You want to see why I'm so excited about him? You want a highlight video? I'll give you a highlight video:
http://youtube.com/watch?v=
y3TTfTsnOY0[/youtube]